OUR JOURNEY@Altus
This section is our journey into the world of social impact and how that shaped our idea of building Altus Education as a ground for building leaders and help them pivot into the Top Schools/Ivy Leagues.
It is high time that a diverse group of globally successful industry professionals educated from the Top Schools come together and challenge the relevance of the existing status quo of the conventional Education System and methods and say "We can do Better, and We NEED to do this for the next generation".
We didn't develop Altus Education during the COVID times. We just restarted a very successful program we have been running for several years. We needed to! The COVID situation has depressed and numbed the entire student generation. This is NOT acceptable.
/THIS IS OUR STORY/
We started out with just a dream with our non-profit ( Project Starfish www.pstarfish.org ) in 2012 to assist unemployed blind professionals find employment through modern training methods like gamification, design thinking, skills, and simulation. 95% visually impaired people are unemployed and thus dependent on social security or the kindness of their family members, consequently forcing this community towards poverty.
We changed our training methods a number of times based on our failure, and honestly, no one ever heard about a training model like ours in this community. We had every reason to fail.
By 2017 without any donation, charity, or handouts we trained and created jobs for over 300 visually impaired individuals in 6 countries! A world record. We were featured in the Boston Globe, Chicago Tribune, and several US newspapers. We were featured in the Khaleej Times, A #1 newspaper in Dubai, and several news magazines in Europe and Australia. In 2015, the founder of Project Starfish and Altus Education, Subhashish Acharya (Subs) was appointed by Governor Deval Patrick of Massachusetts to lead employment advisory for the Disability Rehabilitation Council for the Massachusetts Commission for the Blind. This council was started by none other than Helen Keller. 
In 2012 when thousands of people looked at us, laughed at us, jeered at us…we said "Screw It! Let's Do It!". The rest is history. Without a single donation or charity, we changed the course of history!
Wait, what does this have to do with getting students to Top Schools? 
/HOW WE STARTED SENDING STUDENTS TO TOP SCHOOLS/
In 2016, we saw a major problem with the student community. Many brilliant students just didn't fit the uniform education system, yet they had aspirations to pivot into the Top Schools. We observed the same thing with exceptional students with high grades, and yet they were unaware of the Top Schools' admission process. They had all the qualities, the passion, and the leadership qualities, yet had no opportunity.
We looked at the problem and realized how much the Project Starfish training model could help. We again faced the same laughter, the same jeers…and we said, "Screw It! Let's Do It!". Between 2016 to 2018, we sent over 20 students to Top Schools. 
/TURNING POINT – THE TOP SCHOOL ADMISSION MODEL/
In 2017 Project Starfish became part of the MIT Startup Exchange Ecosystem. We started attending events to understand how admissions at the Top Schools work because we felt for these brilliant students who just had no direction in life. Check the below. We realized – thats it! The MIT's of the world simply want those very few who could rise above the rest based on their achievements and life experience  BUT "outside of school".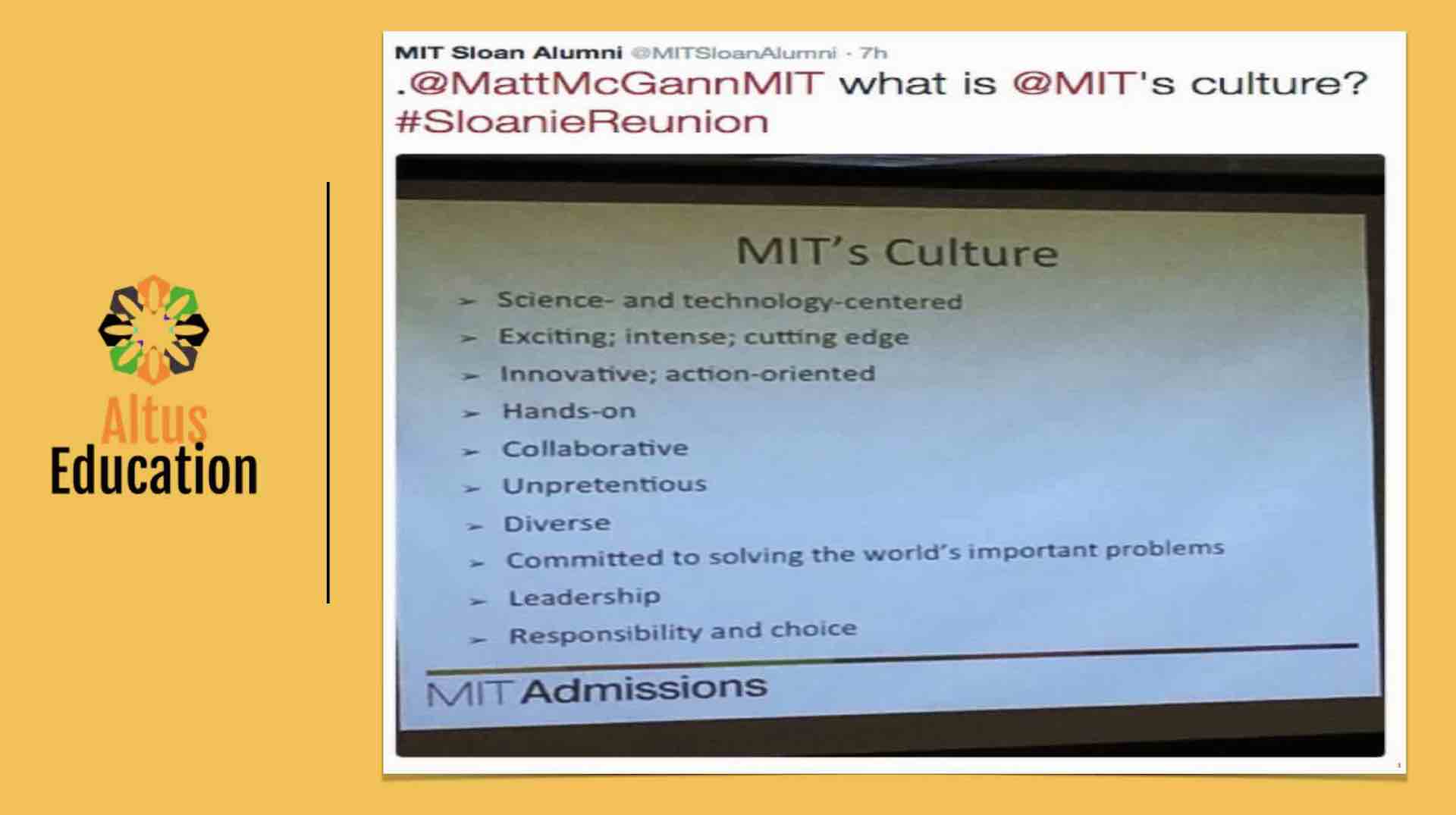 /THE MOST DETAILED ARTICLE ON TOP SCHOOL ADMISSION – THE HOLY GRAIL/
Inspired by our discovery, we wanted to find out if WHAT WE THINK IS TRUE….is REALLY TRUE?  
We found the most fascinating article ever written by a Harvard Alum (Allen Cheng of PrepScholar) that not only demystifies the "Admission Process", but in reality puts the entire admission roadmap down in detail. We are beholden to him for such an act of philanthropy.  The article is below and can be viewed page by page.
/

WE WANTED TO TEST THE MODEL – ADMISSION AT HARVARD BUSINESS SCHOOL

/
We realized we were on to something. But, can we walk the talk?  Will this process work? We did not want to get into a Harvard Business School MBA program, but can this model work for Harvard Business School Executive Education?
Harvard Business School Executive Education has a PLD program, which is considered an alternative to an Executive MBA. Harvard Business School brings the topmost executives around the world to participate in the program. Seats are limited, and there is a selection process involved, which requires an essay and recommendations,  substantiating the reason for attendance and participation. It is very similar to the MBA program, however, the MBA selection is way stringent because of the number of applications.
/

WE TOOK A BREAK TO PONDER

/
 We stopped the student program between 2018-2020 as the Founder, Subhashish Acharya (Subs), attended Harvard Business School PLD program ( an alternative to an Executive MBA ). Harvard Business School Executive Education is one of the finest education programs on the planet. It was the COVID crisis and the exceptional experience at Harvard Business School that inspired us to re-start this program to elevate the students of today to the leaders of tomorrow. The Altus Education platform was thus born.
/

A GREAT SCHOOL – IS A TRANSFORMATION OF YOUR HEART

/
 A view of the class at Harvard Business School PLD/Exec MBA Alternative program. It was a transformation beyond words. Being with the most amazing and stellar leaders of the planet with a step towards being an HBS Alum – this is one of the best education programs on the planet. Teachers from Harvard Business School will transform your entire vision with conscious leadership that words can never express.
That's why we TOTALLY support students to pivot into the Top Schools and the Ivy Leagues because of the transformation one will experience.

THE COVID SITUATION SPARKED OUR FIRE
It was this short film "Numb" that made us realize what's happening to "High Schoolers".  As parents, we need to take action, or else the entire generation of high schoolers will numb themselves and will be a lost generation with no leadership skills, no friends, no health, no jobs, and no education. 
You don't need to believe in our thinking, however, if we don't take action now, we will lose the entire generation. We want to rise higher. We want to show students there is a way out, there is a better way to lead, get educated, and be financially free – but it is never going to be the conventional way.  Apple wasn't conventional. Tesla wasn't conventional. Bitcoin wasn't conventional. You can't get far in life with conventional thinking anymore. 
WE DEVELOPED THE 

4 PILLARS

AT ALTUS EDUCATION (THIS IS THE NEW FUTURE)
GOAL SETTING and ALIGNMENT
Everyone can set goals, but what sets us apart is understanding the student, the strengths, personality, aspirations, skills and "aligning" that with current and future goals.
The Key is in the Alignment
FINANCIAL EDUCATION
Student Debt is the burden you need to get out of fast. You need to learn the secrets of the wealthy,  invest time and build skills for a lifetime.
Understanding Money is a BIG Skill
INdustry & technology
Technology is changing the Industries. Understanding Ecosystems, application of Technology and convergence of People, Process and Technology is being "Ready"!
Don't be Redundant. Prepare!
system THINKING
Understanding "Cause and Effect" is the future of spirituality, cooperation, technology, self-awareness and solving problems. Design Thinking & Problem Solving is a habit!
Top Schools select Problem Solvers
WE FINE-TUNED OUR

EXPERIENTIAL PROJECT & IMPACT BASED MODEL
Hands-On Projects
Everything boils down to "Execution", "Problem Solving" and building a "Project" that aligns with career, college, and life aspirations.
This is what Top Schools want from students. Not just a GPA!
College Counselors can answer your questions on the schools, but our "hands-on" projects and recommendations will get you there.
STEP 1: PROJECT DISCOVERY (CLICK ON THE + ICON)
Aligning "College", "Career", "Passion" and "Life Goals", we build a project with the student. Our projects are very detailed and deep. It takes 6 months to 1 year, sometimes even more to complete.
STEP 2: PROJECT DETAILS
This phase is all about researching and finding problems. Assessing what is the impact, who benefits, what are the boundaries, how much time will it take?
STEP 3: PROJECT FINALIZATION
This stage is typically reached by elimination of possibilities and understanding problems/solutions and cause/effect. The project finalization is much deeper than a project. It is about a mission!
STEP 4: PROJECT EXECUTION, NETWORKING & MENTORSHIP
This is where we spend the most time and apply learning to solve problems and execute flawlessly. Easy said than done, but this where students become leaders.
STEP 5: PROJECT PACKAGING & RECOMMENDATIONS
The entire project has a very critical component – and that is Networking with Industry professionals, professors, non-profits etc as guides. This leads to recommendations, packaging of the project and inclusion in the College Application Form. It's thorough! Success is usually assured.

…AND WE ARE READY TO ROCK!
We at Altus Education are not perfect. We don't have a great website, doesn't look stunning, it doesn't have the bells and whistles and the jazz that attracts everyone, it is unconventional, we select a few, make them work hard etc etc. Well, but we have a strong belief we can help you succeed. Time and again, we have proved it. This time, the world needs Altus. We all need to rise higher.
APPLY BELOW
ASSESSMENT 1: PREPARE
This assessment is your first application of the Altus Education Student Leadership Program. 
It assesses your mindset, personality, what you stand for, and what you want to do in the future. The assessment takes you through the Altus Education program and also sets the expectations. This assessment usually takes 3 hours to complete.
Click on the button below to be redirected to the assessment.
ASSESSMENT 2: YOUR JOURNEY
Post Assessment 1, Altus staff will assess your position and then provide you the link to this assessment i.e. Your Journey. This assessment helps you understand the biggest enigma – YOU. We find what you are made up of, what your life experience is, where you want to go and why you want to go there. In addition, this assessment helps understand what kind of impact do you want to create in your lifetime? This assessment will inspire you to dream big and look at your goals with clarity.
The link to this assessment is only provided post Assessment 1 and it takes between 3 to 5 hours to complete.
ASSESSMENT 3: CAREER
Assessment 3 i.e. Your Career is the final assessment that brings your professional aspirations and goals together. We look at the student from a holistic perspective – understanding who they are, the life experiences that shaped them, and finally their professional aspirations. 
Which path does the student want to embark on? How relevant is that in the years to come? Which Industry does that cater to, for example, are some of the elements in the assessment?
We only provide the link to this assessment once we find the student is a good fit post Assessment 2. This assessment takes 3 to 4 hours to complete.